Event Branding
Using a pattern, font, image, symbol, monogram or logo for a consistent "message" throughout the entire event
Anything that will be recognizable as your "signature"
Branding is more than just a logo
CONSISTENCY is key and it is all about the details
Lasting impression
Sets the tone for the event
The Event Group will create a customized package based on your needs. Please contact us to set up a consultation.
Troy Polamalu's Polynesian Luau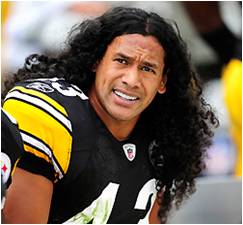 Troy Polamalu is a safety for the Pittsburgh Steelers and is highly recognized by all NFL fans for his on-field talent, off-field community involvement and hair. In Steelers' Nation, he's a fan favorite.
Troy and his team approached The Event Group for an fundraiser that encompassed his American Samoan heritage and two beneficiaries that he's very passionate about – The American Samoan Football Camp and military veterans.
Challenge:
To create a concept that includes a tropical luau event with Pittsburgh Steeler Troy Polamalu.
Result:

Incorporated tropical elements and colors and the identifiable visual of Troy Polamalu's jersey number (#43) and the Steelers' black and gold color scheme.
Event name: Polamalu's Polynesian Luau
The logo also included a football pigskin texture in the football/oval shape.
The letterhead also included both elements on both sides.
Letterhead – Two sided; Organization mission on backside; helps brand stand out on potential sponsor's desk when in the shuffle of other mail and papers; leaves a lasting impression
Other Branding Pieces

Head & Shoulders – Troy is a spokesperson for H&S, natural fit and sponsor for the event

Head & Shoulders Auction Paddles

Head & Shoulders Gift Bags
Step & Repeat
Little Football Menu Card Holders
Lei Necklaces with Event Logo
Steelers' Players and Coaches in authentic Guayabera shirts with floral accent embroidery
Wait staff and Bartenders in tropical shirts
Custom Sweets and Treats Buffet